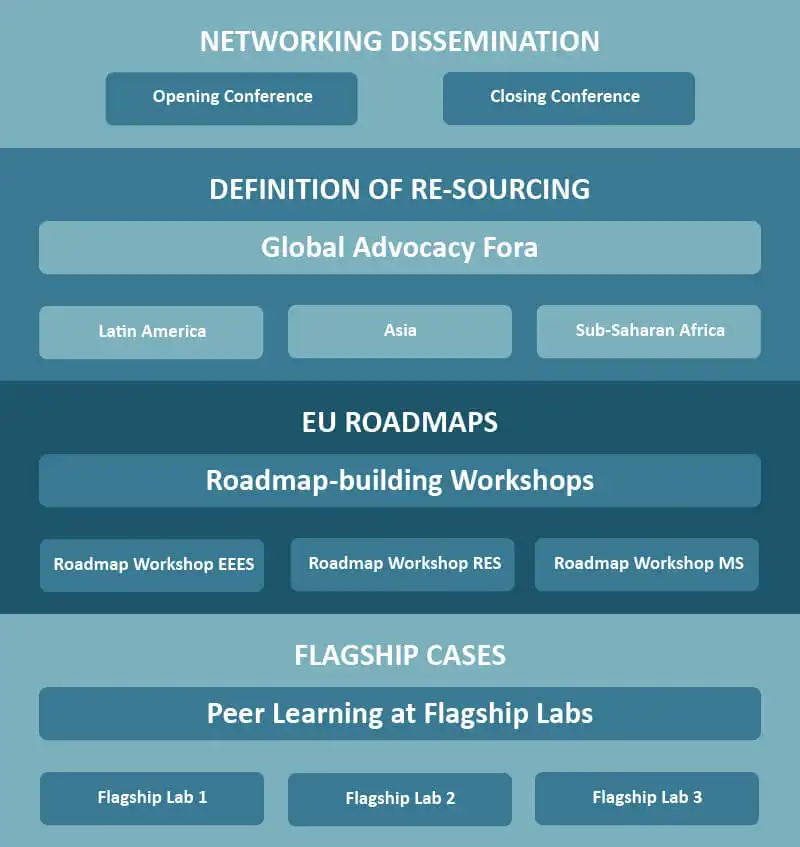 The Global Advocacy Forum provides a platform for Latin American, African and Asian stakeholders to exchange thoughts on the most pressing regional issues around responsible sourcing in mineral value chains. These voices are an important contribution to the European discussions & policies governing responsible sourcing practices across mineral value chains.
The events invite regional opinion leaders from policy, industry, civil society and science to interactive sessions with the RE-SOURCING project team, to discuss regional needs and priorities for the implementation of responsible sourcing.
The outcomes of these event will enable the identification and integration of region-specific inputs into the processes for a globally shared definition of responsible sourcing and related agenda setting.
The Latin American Forum
The Latin American Forum was held in June 2022, as a one-day interactive workshop in Santiago (Chile), details for which can be found here. The discussion topics included:
How is the responsible sourcing concept understood and implemented in Latin America?
What are the challenges and solutions for implementing responsible sourcing practices in the Latin American region?
What targets and priorities for responsible sourcing are pertinent to the region, encompassing economic, social, environmental and governance aspects?
What is the degree of practicality and transferability of EU sectoral roadmaps in the Latin American context for the creation of a global playing field?
The African Forum
The African Forum was held in February 2020, as an interactive panel discussion on the interplay between African and European policy and requirements for responsible sourcing. It focused on bringing African Voices and priorities to the forefront and what sustainability means for African stakeholders.
The Asian Forum
The Asia Forum was held in Beijing in May 2023, and focused on the introduction to the concepts and requirements of responsible sourcing
and its impact on mineral projects. This was followed by a panel discussion exploring the links between responsible sourcing and Chinese
stakeholders and potential future initiatives and requirements in terms of technology, compliance, ESG, and sustainability.